Mango Production in India 2022 and Beyond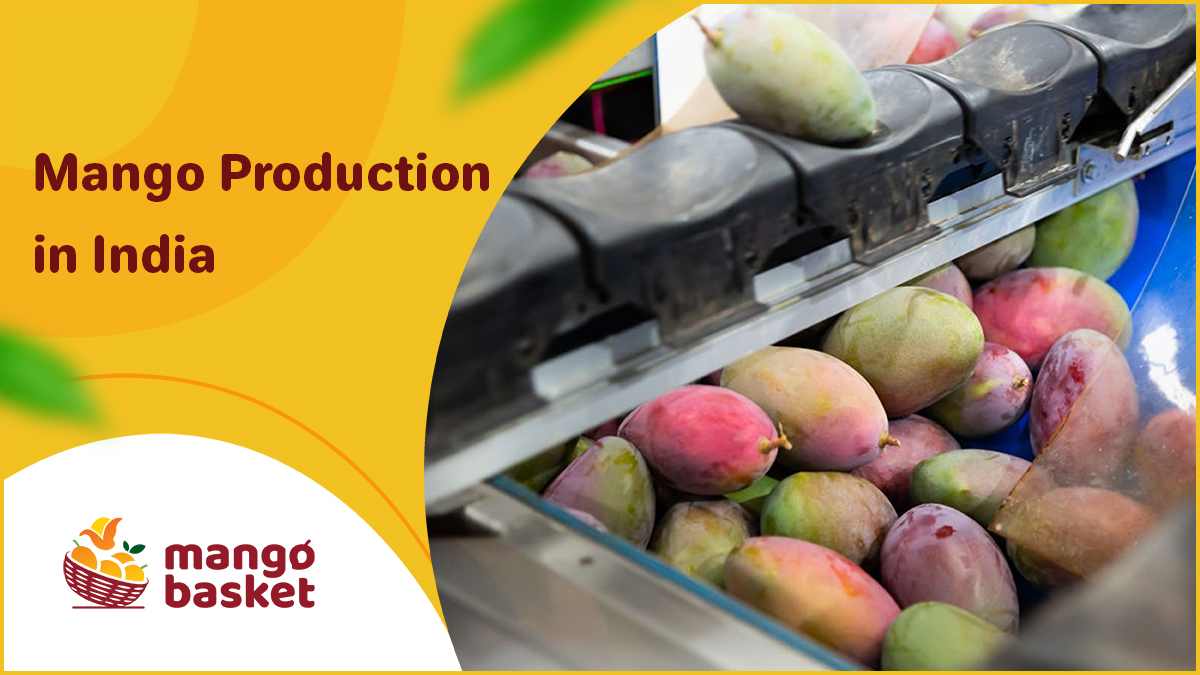 Mango is among the most important fruits produced in India. They are grown in an area of 1.23 million hectares with an annual production of almost 10.99 million tonnes, which accounts for more than 55 percent of the world's total production. Indian mangoes are famous for their flavour, aroma, and taste in different shapes, sizes, and colours.
It is the special fruit that equalizes the high standards of quality and is bountiful of nutrients as well at the same time. It acts as a natural potent against heart diseases, cancer, and cholesterol. About 40% of dietary fibre can be provided from a single mango. This fruit is a 'warehouse of potassium, beta carotene, and antioxidants. It is abundantly grown in India's tropical and subtropical parts at a sea level of 1500m. It grows best in temperatures around 27 degree Celsius.
To maintain high quality, the production has been set up in major production zones. The country's requirement has recognized treatment facilities like Hot water, Vapor Treatment, and Irradiation facilities to enhance production.
Well, let's take a look at some of the necessary details that you must know about the production of mangoes in India.
Mango Production in India 2022 and Beyond
Areas where production of mangoes happens in India
The cultivation of mango is believed to have originated in South East Asia. Mango has been cultivated in southern Asia for nearly six thousand years. In India, mangoes are cultivated in Andhra Pradesh, West Bengal, Karnataka, Kerala, Bihar, Uttar Pradesh, Uttarakhand, Punjab and Haryana, Maharashtra, and Gujarat.
India has about a thousand varieties of mangoes. A few varieties are being commercially cultivated, and most of them have eco-geographical requirements for optimum growth and yield. The northern/eastern India varieties are late compared to southern and western India varieties.
The important variety of commercial mangoes are as follows:
Over an area of 2300 thousand hectares, there is an annual production of 12750 thousand metric tons. Uttar Pradesh ranks first in mango production with a share of 23.47% and high productivity. India produces high-quality mangoes, among which western countries highly qualify Alphonso. In Punjab, it is cultivated whole of the sub mountain belts and has also spread to arid and irrigated areas of Northern India. Let's take a look at India's growing belts state-wise to understand it more easily.
Andhra Pradesh– Srikakulam, Chittoor, Adilabad, Khammam, Vijaynagar, Krishna, East and West Godavari, Visakhapatnam
Chhattisgarh- Raipur, Jabalpur, Bastar
Gujarat- Surat, Valsad, Junagarh, Bhavnagar, Mehsana, Khera
Haryana- Karnal, Kurushetra
Jammu & Kashmir- Jammu, Kathwa, Udhampur
Jharkhand- Ranchi, Sahibganj, Godda, Sindega, Gumla, Hazaribagh, Dumka
Karnataka- Kolar, Bangalore, Tumkur, Kagu
Kerala- Kannur, Palakkad, Thrissur, Malappuram
Madhya Pradesh- Rewa, Satna, Durg, Bilaspur, Bastar, Ramnandgaon, Rajgari, Jabalpur, Katni, Balagha
Maharashtra- Ratnagiri, Sindhudurg, Raigarh
Orissa- Gajapati, Koraput, Rayagada, Sonepur, Bolangir, Guntur, Malkanpuri, Dhenkanal, Ganjam, Puri
Punjab- Gurdaspur, Hoshiarpur, Ropar
Tamil Nadu- Dharmapuri, Vellore, Tiruvallur, Theni, Madurai
Uttaranchal- Almora, Nainital, Dehradun, Bageshwar, UdhamSingh Nagar, Haridwar
Uttar Pradesh- Saharanpur, Bulandshahar, Lucknow, Faizabad, Varanasi
West Bengal- Malda, Murshidabad, Nadia
State wise production
Now that you know how the states have different growing belts for mango let's see the approximate production of mangoes by states.
Uttar Pradesh is the leading producer of mango, followed by Andhra Pradesh, followed by Karnataka, Bihar, and Gujarat.
Well, the above pie chart can make it quite clear for you which state is leading in the production of mangoes. And it's sure that Uttar Pradesh is the one which produces the maximum amount of mangoes as compared to others.
But this is the current case, but way back in the year 2001 to 2002, the production of mangoes in ('000 MT) by states was something like this:
Andhra Pradesh- 2445.8
Uttar Pradesh- 1950.0
Bihar- 1253.5
Karnataka- 1130.6
Maharashtra- 559.0
West Bengal- 585.0
Tamil Nadu- 438.7
Orissa- 402.4
Gujarat- 457.6
Others- 797.6
So, you can observe from the above data that Andhra Pradesh was the leading producer of mango. But in the current duration, Uttar Pradesh is the top producer of mangoes.
Economic importance of mango in India
Mangoes are very popular among people because of their wide range of adaptability, high nutritional value, richness in variety, delicious taste, and excellent flavour. It is a rich source of Vitamin A and Vitamin C.
Mangoes can be eaten raw and ripe. Raw fruits of the local varieties are used to make products like raw pieces in brine, pickle, chutney, and many others. During the present time, raw mangoes are used to prepare pickles and raw slices. Alphonso is used in preparing squash in the Coastal Western zone.
The wood is used as dried twigs and timber for religious purposes. The mango kernel can be used for saponification. The starch of kernel is used in the confectionery industry.
They also has a lot of medicinal uses. The ripe fruit has fattening, diuretic, and laxative properties. It helps to increase digestive capacity.The mango industry has provided livelihood opportunities to its growers and those involved in its marketing channel.
Conclusion
Mangoes are one of the most preferred fruits in the world. Mango is widely produced in India where Uttar Pradesh is the leading producer. All the states have their unique varieties. Mango has an established export market and poses bright opportunities for export in the international market, whether in fresh or processed forms. The production of mangoes can depend on many factors like the climate, irrigation and pest infection, and many other factors.