Types of Mangoes in India and Where to Find Them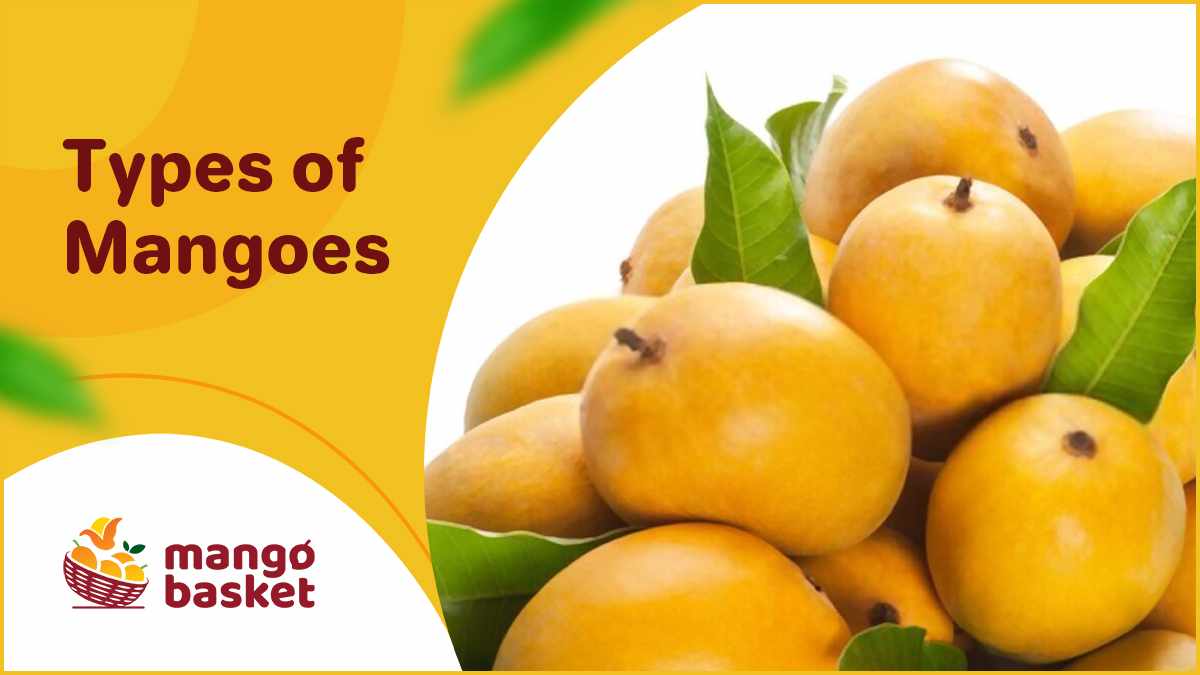 Every mango has its own story to say which can be a different home, a different taste, and different colors. Every bite of this delicious fruit tells us about the story. Hundreds of varieties of mangoes are there in the world. Here we discuss the varieties of mangoes available in India.
We are discussing 24 varieties of mangoes grown in India. This is just a small portion of the mangoes cultivated in India. Let's know what makes each of them unique and where to find them:
Types of Mangoes Available in India
Alphonso Mangoes from Ratnagiri, Maharashtra
They are available in mid-July, and Alphonso mangoes are loved for their yellow color appearance and deliciousness. It was named after Afonso de Albuquerque. It is the most consumed mango in India. Ratnagiri and Devgad in Maharashtra are the finest and exclusive hotspots for mango-lovers for Alphonso mangoes.
Kesar Mangoes from Junagadh, Gujarat
Kesar mangoes get their name from their saffron appearance and heavenly taste. It is widely known for its distinct sweet flavor and is considered the Queen of Mangoes. Girnar Hills of Junagadh in Gujarat is famous for its Kesar mangoes. These hills are located at a distance of 320km from Ahmedabad and can be accessed by roadways and railways. They are available from May to July. It is used as an ingredient in exotic dishes.
Dasheri Mangoes from Lucknow and Malihabad, Uttar Pradesh
Uttar Pradesh is known as the land of Nawabs, and they are famous for their royal mangoes. Lucknow and the adjoining towns are known for its mango belt of North India. They are available from mid-May to late August. They have green peels and a wholesome taste, which distinguishes it from the other mangoes.
Himsagar and Kishan Bhog Mangoes from Murshidabad, West Bengal
It is from one of the Nawabi cities of West Bengal; the city of Murshidabad is famous for its wide variety of delicious mangoes. The city is 230 km from Kolkata and is easily accessible by roadways and railways. Murshidabad is famous for types of mangoes like Kishan Bhog, Begumpasand, Nawabpasand, and Himsagar. Himsagar Mangoes are harvested from May to early June.
Badami Mangoes from North Karnataka
North Karnataka is famous for its Badami variety of mangoes. Badami mangoes are also called Karnataka-Alphonso mangoes in the neighboring areas. They are available from May to July.
Langra Mangoes from Varanasi, Uttar Pradesh
Varanasi is famous for its Langra variety of mangoes. It is a hotspot for mango lovers in the country. Banarasi Langra mangoes are available in June and July. They are famous for their lemon-yellow skin and delicious taste.
Chausa Mangoes from Hardoi, Uttar Pradesh
Hardoi and its adjacent regions in Uttar Pradesh is a hotspot for mango-lovers. It is 112 km from Lucknow and is accessible by road. Hardoi is famous for its Chausa variety of mangoes. It is available in the months of July and August. These mangoes fall under the sucking category and are famous for their yellow color and aroma.
Safeda Mangoes from Andhra Pradesh
Safeda is popular in several regions of Andhra Pradesh. It is often called the King of Mangoes in South India. This fruit is larger than the other varieties of mangoes. This fruit has a meaty texture; this mango's thin and firm skin is sweet and lacks fiber. Safeda Mango is rich in Vitamin A and C.
Bombay Green Mangoes from Punjab
Sadda Punjab is a hotspot for mango lovers and is famous for its Bombay Green Mangoes. These medium-sized mangoes are available from May to July and have visitors from distant places.
Totapuri Mangoes from Bangalore, Karnataka
The electronic city of India is widely known for its Totapuri mangoes. These mangoes are also known as Bangalora or Sandersha mangoes. The mangoes are medium-sized greenish-yellow mangoes. They are available from May to July. Totapuri is one of the significant types of mangoes in our country with a different taste and aroma.
Neelam Mangoes from Andhra Pradesh
These mangoes are grown in all parts of India, but the tastiest and distinct variety of Neelam mangoes come from Andhra Pradesh. It is available in May and July. They have a specific sweet smell and are smaller with orange color.
Raspuri Mangoes from Karnataka
They are cultivated in the southern region of Karnataka across Bangalore, Kolar, Ramanagara. It is available in May and June. Raspuri Mangoes are a popular variety of mangoes. Its oval shape differentiates it, and its skin is inedible. If harvested at the right time, the taste of Raspuri Mango can beat any other mango.
Malgoa Mangoes from Salem, Tamil Nadu
Malgoa mangoes are known for their round shape and thick skin. It is grown in various regions in Tamil Nadu, mainly in Salem. It is available in the months of July and August. This mango is rich in pulp and juice. It is considered one of the best varieties of mango in the world.
Lakshmanbhog Mangoes from Malda, West Bengal
They are grown exclusively in the Malda of West Bengal. It is available in June and July. They have a gleaming golden reddish skin and an ideal amount of sweetness. These mangoes are chosen separately by the Government and exported to the United States.
Amrapali Mangoes from All over India
They are a hybrid variety created in 1971. It is a crossbreed of Dasheri and Neelam Mangoes. This mango is grown in farms and orchids all over India and is deep red when it is fully ripe and has a short shelf life.
Imam Pasand Mangoes from Andhra Pradesh
It is grown in parts of Tamil Nadu and Andhra Pradesh. It is available in May and June. Imam Pasand has a unique taste with soft skin. It has an incredible flavor.
Fazli Mangoes from Bihar
They are larger in size than other mangoes. They have lots of pulp and the right amount of sweetness. They are mostly harvested in Malda in West Bengal.
Mankurad Mangoes from Goa
It is the most popular mango variety in Goa and is available in April. They have less fiber and are sweet naturally.
Paheri Mangoes from Gujarat-They are available in the months of April and July. The local shopkeepers call this pure fruit honey, although it's not. It has a very distinct taste with sweetness and sourness.
Mallika Mangoes from All over India
It is known for its exceptional sweetness with tinges of honey, melon, and citrus. They are a crossbreed from Neelam and Dasheri mangoes. It is available in the months of June and July. They are orange in color and fiberless.
Gulab Khaas Mangoes from Bihar, Jharkhand
They have a rosy flavor and taste. This fruit is found in blushing pink or red skin and is used to make desserts. They are small in size and are sold in the States of West Bengal, Jharkhand, and Bihar.
Vanraj Mangoes from Gujarat
It is a rare variety that is sold in Gujarat. They are oval in shape and have a reddish-tint skin on the upper portion. They have good keeping quality because it's a mid-season fruit.
Kilichundan Mango from Kerala
They are large in size and sold in large quantities in different parts of Kerala. It gets its name from the resemblance the fruit has to a bird's beak. This fruit is used in households and restaurants to make curries and pickles. It is greenish-yellow in color.
Rumani Mangoes from Chennai
It is sold in large quantities in Tamil Nadu and regions of Chennai. They have a greenish-yellow skin that has good flavor and juicy texture. This fruit is rich in Vitamin A and E, which makes it healthy. This fruit can be eaten raw as well as in the form of jams, yogurts, smoothies, and ice creams.
Conclusion:
Well, we have only discussed some of the many varieties of mangoes available. India is the main producer of mangoes, as there is an ideal climate to grow mangoes. You can travel all over the country to enjoy these delicacies.