Why Were Indian Mangoes Banned in the USA and EU?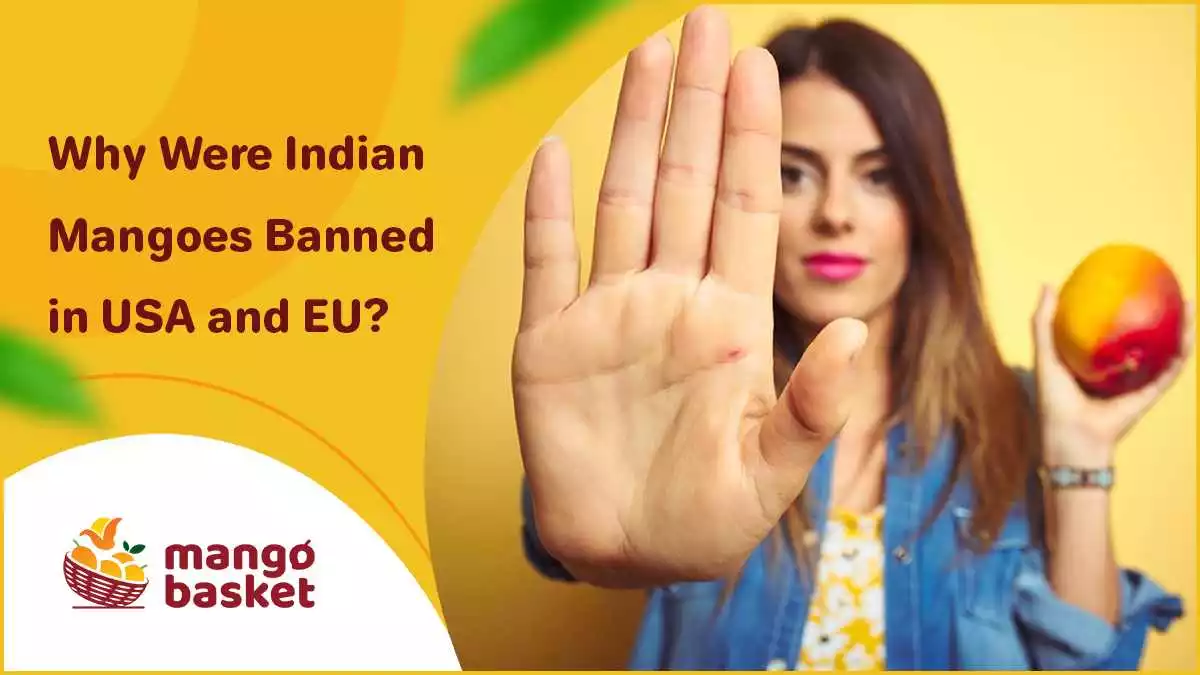 Mangoes are one of the most famous fruits that are eaten all over the world, and we can proudly say that India is the country that is known for this fruit. It's obvious that mangoes have a good amount of history, and they were banned in the USA and Europe. But if you don't know why this is not sure whether it got lifted or not? Then keep scrolling to know the details.
Mangoes are tropical fruits that inspire passion, and everyone desires these exotic fruits. India is one of the leading producers of this fruit and is home to more than a hundred varieties of this fruit. Mangoes have been mentioned in history as well as are a part of Indian music, poetry, and art. They are also mentioned in Hindu and Buddhist texts and have been a significant part of our history.
Why Were Indian Mangoes Banned in the USA and EU?
Indian Mangoes Banned in the USA
This section has paid attention to how the American mango might get its flavor back, which may be a significant reason why Indian mangoes got banned in the USA. Red-skinned mangoes that are available in America are bland and crunchy. 
For example- See this American YouTuber's reaction to Indian mangoes and what they have to say about their American mangoes taste experience so far (watch full video reaction here)
The importation of Indian mangoes into the US had been officially banned since 1989 because of concern over pests that might spread to American crops. Even before this ban, shipments from India were not that common in the area.
The estimated market size for mangoes in the USA stands to be 250,000 tons, and the fruit was mainly imported from Mexico and other Central American countries rather than from India.
Even though India is the largest producer of mangoes in the world, accounting for more than 50 percent of the world's output, the States had banned Indian mango exports in the mid of 1980 over the concern that Indian farmers use hazardous pesticides to protect the fruit crop, which can affect their other crops that are grown.
The story of the uplifting of the ban revolves around a dentist from New Jersey, George W. Bush, and some Harley Davidsons.
The American ban on Indian mangoes was lifted in 2007 after a failed mango smuggling incident. There was a complicated trade agreement between the States and India that ended with George W. Bush swapping Harleys for mangoes. The ones that were imported from Mexico, Peru, and Brazil were pale imitations of the real thing.
The US Lifted Its Ban on Indian Mangoes After 18 Years
Indian Mangoes arrive in the USA after a long period of 18 years. The first-ever shipment of Indian mangoes was the best varieties that were delicious but juicy and got officially cleared for retail sale in the United States.
The first post-ban shipment arrangement was primarily led by a Pennsylvania dentist named Bhaskar Savani, who was born and raised in Gujarat but moved to the United States in 1990 to attend dental school. His father used to visit him in the summertime and used to smuggle mangoes for him, but he had got caught one time when the doctor was waiting for him outside of JFK Airport for his father. After a few hours, his father came out because the USDA inspector told him to throw the mangoes in the trash can. His father ate as much as he could, like three or four kilos of mangoes. 
This whole episode or you can say the incident made the young dentist go on a convoluted six-year mission to understand and eventually defeat the ban.
The US president Bush tried a mango on his visit to India in 2006, and he mentioned to Mr. Manmohan Singh (Prime Minister of India) that it was a hell of a fruit. He and his team had been lobbying to get Harley-Davidson motorcycles to India, which had been disallowed due to strict emissions standards. At last, a deal, or you can say an agreement, was arranged between both that basically swapped access for Harleys into India with that of mangoes into the US.
Finally, the day came when the ban was lifted when President Bush and Indian Prime Minister Manmohan Singh signed a deal in New Delhi in March 2006. It was done to enhance the bilateral trade in agriculture with India, symbolized by making way for mango to be exported to the United States.
India produces more than 1000 varieties of mangoes, even the high in demand Alphonso and Kesar varieties. These two varieties were among the first shipments to arrive in the States after the ban.
Indian Mangoes Banned by EU
Europe is another continent that had imposed the ban on Indian mangoes, and it was done on May 1, 2014. This happened after the United States trade authorities in Brussels found that 207 consignments consisted of Indian fruits and vegetables that were infested with fruit flies. These flies are considered to be pests that are native to Indian soil but can infest and damage European crops.
Well, this ban was not only on the famous Alphonso mangoes, but it was also on other Indian mangoes. Besides mangoes, the ban stalled the Indian exports of around four vegetables, including eggplant, bitter gourd, taro plant, and snake gourd.
However, the prohibited commodities only represented less than 5 percent of the overall vegetables and fruits imported to Europe from India; it was considered a potential threat for overall European agriculture. 
The Department for Environment, Food and Rural Affairs of Europe stated that the ban was necessary for the whole continent because the pests could threaten the GBP of Europe, which was 321 million for the salad crop industry, including tomato and cucumber. Also, it is worth to know that the United Kingdom imported around 16 million mangoes from India, and once marketed, it made a GBP of around 6 million in one year. 
EU Lifted Its Ban on Indian Mangoes

 
The ban was supposed to last till December 2015, but different agencies working under India's Government worked hard to meet the EU's import requirements and got the ban revoked earlier. Because of their efforts, Indian mangoes can now be exported to the EU. 
EU authorities claimed in 2014 that India's export certification was not up to the mark because of the presence of fruit flies in the mangoes and vegetables from India.
To ensure that India's export was up to the mark, the Government pledged that all food exports would be sent from APEDA (Agriculture and Processed Food Products Export Development Authority) -recognized pack houses, which is a trade body under the central government's ministry of agriculture.
APEDA and the government worked overtime to modify its certification mechanisms according to European guidelines and pushed the EU to send an inspection team to check Indian packing houses in 2014. In September, the EU's Food and Veterinary Office sent a team of officials for an exhaustive audit of packing houses across India.
After almost nine months of India's persistent persuasion, The European Union finally lifted its ban on the import of Indian mangoes on January 20. Even after the ban was lifted, the four banned vegetables remained on the EU's taboo list.
Final Words
Indian mangoes were banned in the USA and EU because of hygiene and pest issues, not because of any other myth spread. The good news is that they are no longer banned in these places, because of which, people living abroad have access to these delicious Indian mangoes. But when these mangoes reach these places, it gets over very fast because of their high demand. So, overall, mango has been a significant part of Indian History because of such reasons. Well, this was a gist about the ban of Indian mangoes in the USA and EU.